Mindfulness Rules and COVID-safe
Your and our health is very important to us!
i
Dear guests!
We have been able to welcome you again to the Hirschen since December 18, 2021.
2 G - vaccinated or recovered
The 2G rule applies throughout Austria.
That means: A prerequisite for your stay is proof of a complete vaccination or recovery.
One is considered vaccinated from the day of the 2nd vaccination. For vaccines with only 1 dose from the 22nd day after vaccination.
A person is considered to have recovered if they can prove an infection that was not more than six months and at least 11 days ago.
The 2G rule also applies to children aged 13 and over. There is only one exception for children who are still required to attend school in Austria: the so-called ninja pass - proof of regular tests in schools - entitles them to admission. Children up to the age of twelve are generally exempt from the obligation to provide evidence.
Please bring the proof from your home country with you and make sure that it is valid for the entire duration of your holiday. This means that all doors are open to you on your vacation: Accommodation and restaurants, cable cars and ski lifts, cultural and sporting events as well as all leisure facilities. Antigen and PCR tests are no longer recognized in these facilities.
Greeting
Meeting each other unfortunately rules out shaking hands at the moment. Greetings can now take place in many ways, a friendly smile, an appreciative nod or wave.
Keep your distance and look at each other
Treating each other carefully means always keeping a distance of at least 1 meter. Disinfectants are available for you throughout the house.
Mouth and nose protection compulsory
Guests and employees are required to wear an FFP2 mask indoors.
QUARANTINE & ENTRY AND DEPARTURE
We ask you to inquire about the regulations in your home country / federal state or the responsible health department. Since the regulations vary, we cannot give you any information here!
We ask for your understanding.
Constantly updated information and the detailed regulations can be found on our website: www.vorarlberg.travel/sicherheit-zu-gast
BOOK SECURELY & WORRY-FREE
If you have Covid19 yourself or if you have personally ordered quarantine, you can cancel your room at any time free of charge.
Otherwise, the normal Austrian cancellation conditions apply:
If you cancel no later than a month before your planned arrival, there will be no charges.
If you cancel between a month and a week before your planned arrival, you will be invoiced for 70% of the total fee. If you cancel within a week of your planned arrival, you will be invoiced for 90% of the total fee.
In the case of early departure, a room rate of €70 will be charged per person, per day.
Travel cancellation insurance
In case something should come up that prevents you from travelling, we recommend taking out travel cancellation insurance with Hotelstorno Plus, so that you and your family have full coverage in an emergency.
We look forward to you!
Your Greussing family and their team
Situation and measures in the hotel
- 2 G rule applies
- In the indoor areas, the FFP-2 mask requirement applies
- The curfew is brought forward to 23:00
- Bar operation is prohibited, otherwise all fine places will be catered for
- Consumption only at the administration point (i.e. only consume while sitting)
- The wellness area, indoor pool and fitness room are open to you as normal
Times will come again when the only contagious smile is!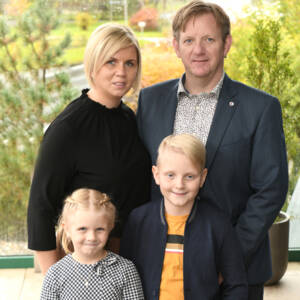 Make someone happy and give a gift card!
Are you looking for an excellent gift idea for a special occasion? Surprise your loved ones with a little luxury and some relaxation. Get inspiration from our suggestions and give your gift a personal note. With a custom Hirschen gift card, you will certainly be giving the right gift.
to the Gift cards