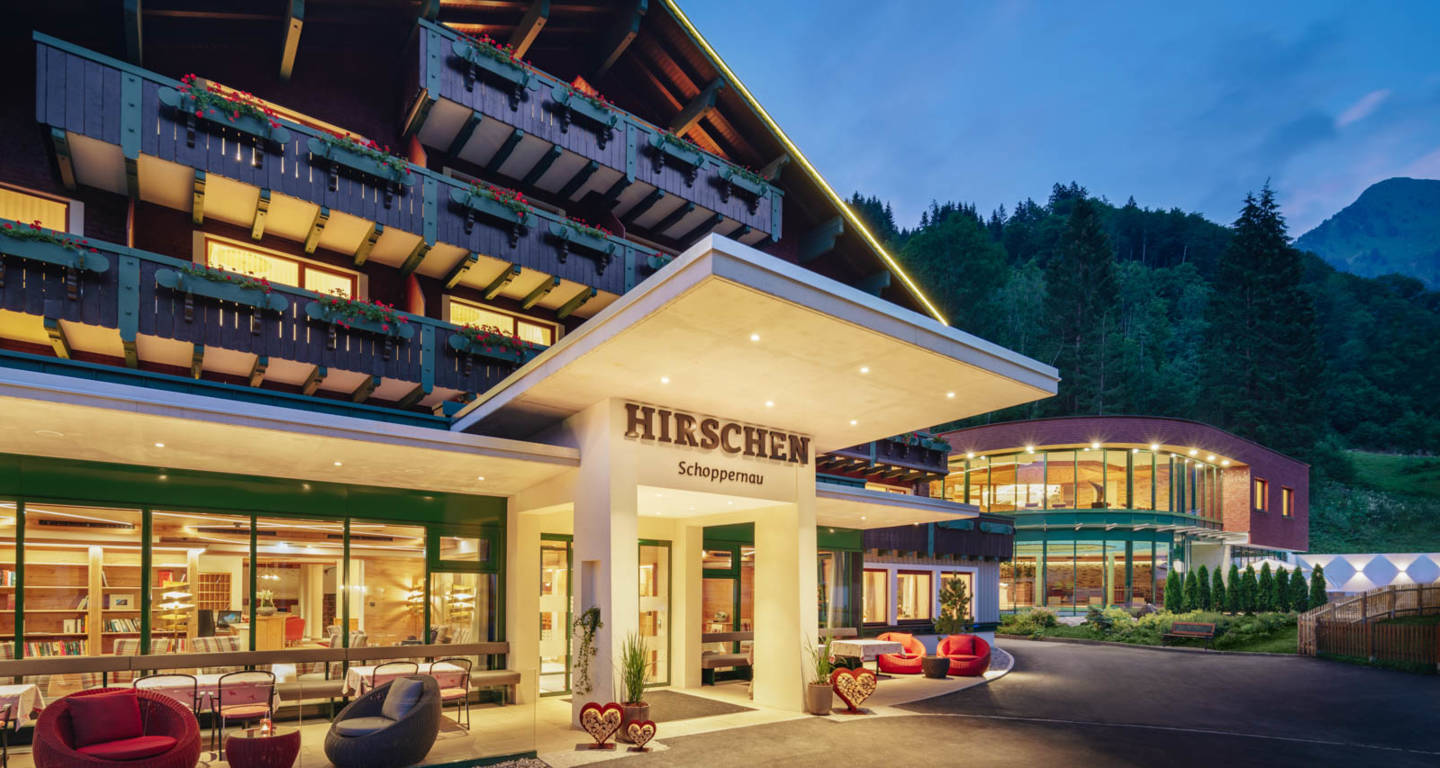 i
Hirschen Wohlfühlhotel Greußing GmbH
Oberdorf 46
Austria - 6886 Schoppernau
Tel.: +43 5515 21150
Email: hotel@hirschen.at
VAT ID: ATU64341778
Member of the Vorarlberg Chamber of Commerce (Fachgruppe Hotellerie)
Bank details: Sparkasse Egg, IBAN: AT95 20603 021000 43666, BIC: SPEGAT21, Account number: 021000 43666, Sort code: 20603

Copyright notice, terms of use
The content of this website is copyright-protected. All content, text, and graphics are property of Hirschen Wohlfühlhotel Greußing GmbH, all rights reserved.
Image sources and copyright information
Felder Images com, Gertraud Gruber www.gertraud-gruber.de, Archiv Vorarlberg Tourismus, Archiv Bregenzerwald Tourismus, Archiv Au-Schoppernau Tourismus, Thalogo - www.thalgo.de, diplos werbeagentur, Pfänderbahn AG, Rolls-Royce Museum Franz Vonier GmbH, Bregenzer Festspiele GmbH, Bergbahnen Diedamskopf, Schubertiade GmbH, Illwerke Tourismus, inatura Dornbirn, walser-image.com and photographers Peter Mathis, Dietmar Walser, Christoph Schöch, Christine Branz, Christa Branz, Roman Horner, Robert Kalb, Adolf Bereuter, Dietmar Walser, Andreas Riedmiller, Christoph Lingg, Nadine Wolf, Wilhelm Gailberger, Josef Erath, Fred Böhringer, Ludwig Berchtold, Richard Hörmann, Werner Stuhler, Otmar Heidegger, Anja Köhler, Alex Kaiser, Herbi Thaler
Maps Icons Collection: https://mapicons.mapsmarker.com
Certain content may be subject to copyright provisions and terms of use of our partners or suppliers. The provision of content and image materials found on this website on other websites is only permitted with express approval from Hirschen Wohlfühlhotel Greußing GmbH. The information on this website was provided to the best of our knowledge and great care was taken to ensure its accuracy. Nevertheless, factual errors and errors in content may still occur.
Liability
Hirschen Wohlfühlhotel Greußing GmbH offers no guarantee and assumes no liability for the correctness, timeliness, and completeness of the information provided. All information provided is without guarantee. This also applies to links to other URLs that are placed on our website.
Online marketing
This website receives SEO services and support from webtourismus.at. We ensure that search engines are able to find the website, in line with the Google Webmaster guidelines. Search Engine Optimization (SEO) is just as important to online marketing as search engine marketing. In our e-marketing activities, we provide support to our customers in all matters of online marketing, from newsletter marketing to Google AdWords.

Google Analytics / Cookies
This website uses Google Analytics, a web analytics service from Google Inc. ("Google"). Google Analytics uses so-called "cookies", which are text files that are saved on your computer and allow for your use of the website to be analysed. The information about your use of the website generated by the cookie is usually transmitted to a Google server in the USA and stored there. If you have activated IP anonymisation on this website, your IP address will first be abbreviated within a European Union member state or another country that is part of the European Economic Area agreement. Only in exceptional cases will the full IP address be transmitted to a Google server in the USA and abbreviated there. On behalf of the operator of this website, Google uses this information to evaluate your usage of the website, to compile reports on website activity, and to allow other services related to use of the website and internet to be rendered for the website operator. The IP address communicated by your browser as part of the Google Analytics services will not be merged with any other data from Google. You can block the storage of cookies by selecting the appropriate settings in your browser. However, we must inform you that in such cases, you may not have full access to the all functions of the website. You may also opt out of Google collecting and processing the data related to your use of the website (incl. your IP address) that is generated using the cookie by downloading and installing the browser plugin available via the following link (http://tools.google.com/dlpage/gaoptout?hl=en).
This website uses Google Analytics with the "anonymizeIP" setting, in order to abbreviate IP addresses, thereby making them anonymous ("IP masking"). More information on the security and data protection policy of Google Analytics can be found at https://support.google.com/analytics/answer/6004245?hl=en
Online Dispute Resolution in accordance with article 14, section 1 of the ODR guidelines
The European Commission provides a platform for online dispute resolution (ODR), which can be found at http://ec.europa.eu/consumers/odr/. Consumers have the option to use this platform to resolve consumer disputes.
For initial questions related to a potential dispute settlement, you are welcome to contact us at hotel@hirschen.at.
Make someone happy and give a gift card!
Are you looking for an excellent gift idea for a special occasion? Surprise your loved ones with a little luxury and some relaxation. Get inspiration from our suggestions and give your gift a personal note. With a custom Hirschen gift card, you will certainly be giving the right gift.
to the Gift cards